rom a strictly military perspective, wearing a white dial dive watch on a mission would possibly cause your fellow commando soldiers to smack you in the back of the head. But what the Panerai Luminor Base 8 Days Acciaio PAM561 lacks in historical accuracy and stealth capabilities it makes up for by being one of the more affordable, in-house-movement-equipped and refreshing-looking alternatives in a sea of boring black and blue dial watches.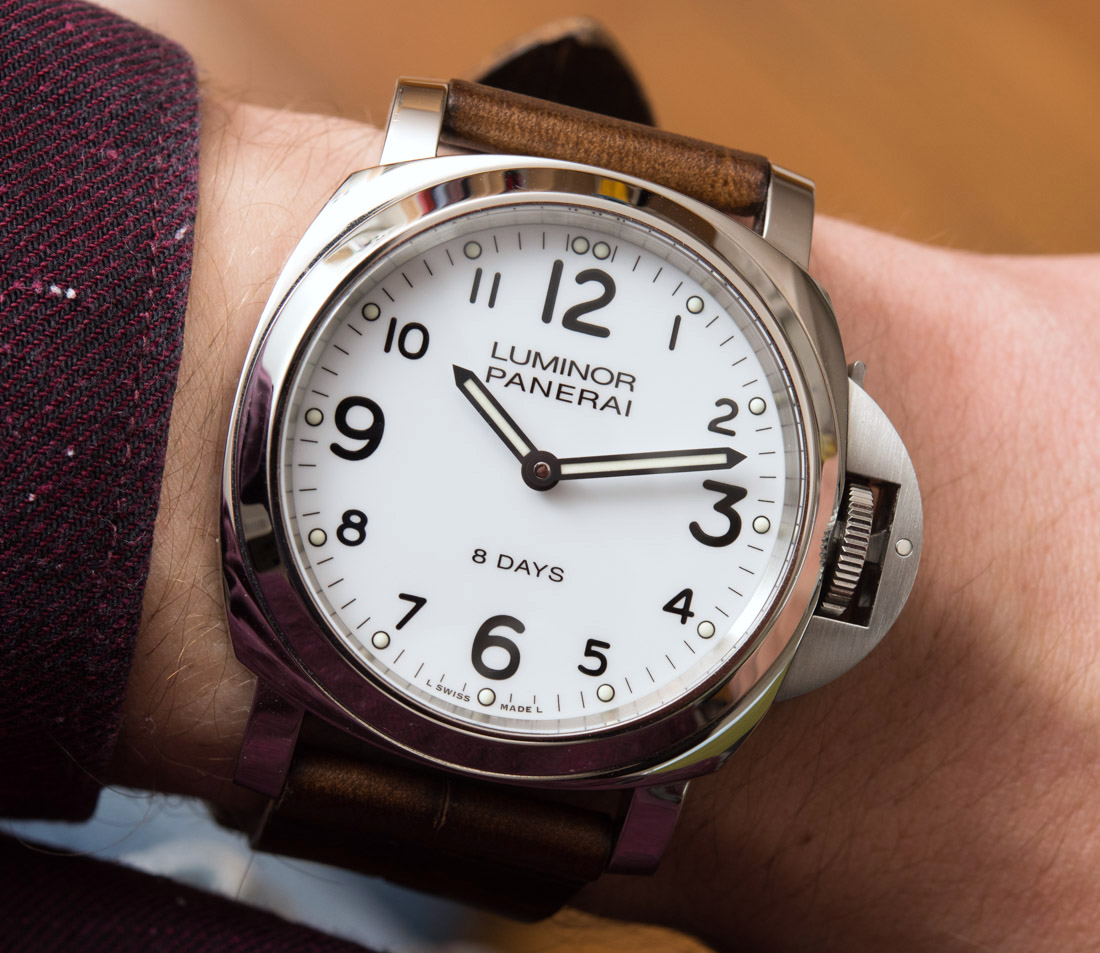 Panerai may be a brand of only a handful of – admittedly very similar – collections, yet it still is one among few that have an almost unearthly power in bringing their first-time customer back for another model… and then another, and another, and so on. As such, I don't think that the Panerai Luminor Base 8 Days Acciaio PAM561 is a typical "first Panerai" – for that, check out our Cost of Entry article on the most affordable Panerai you can buy.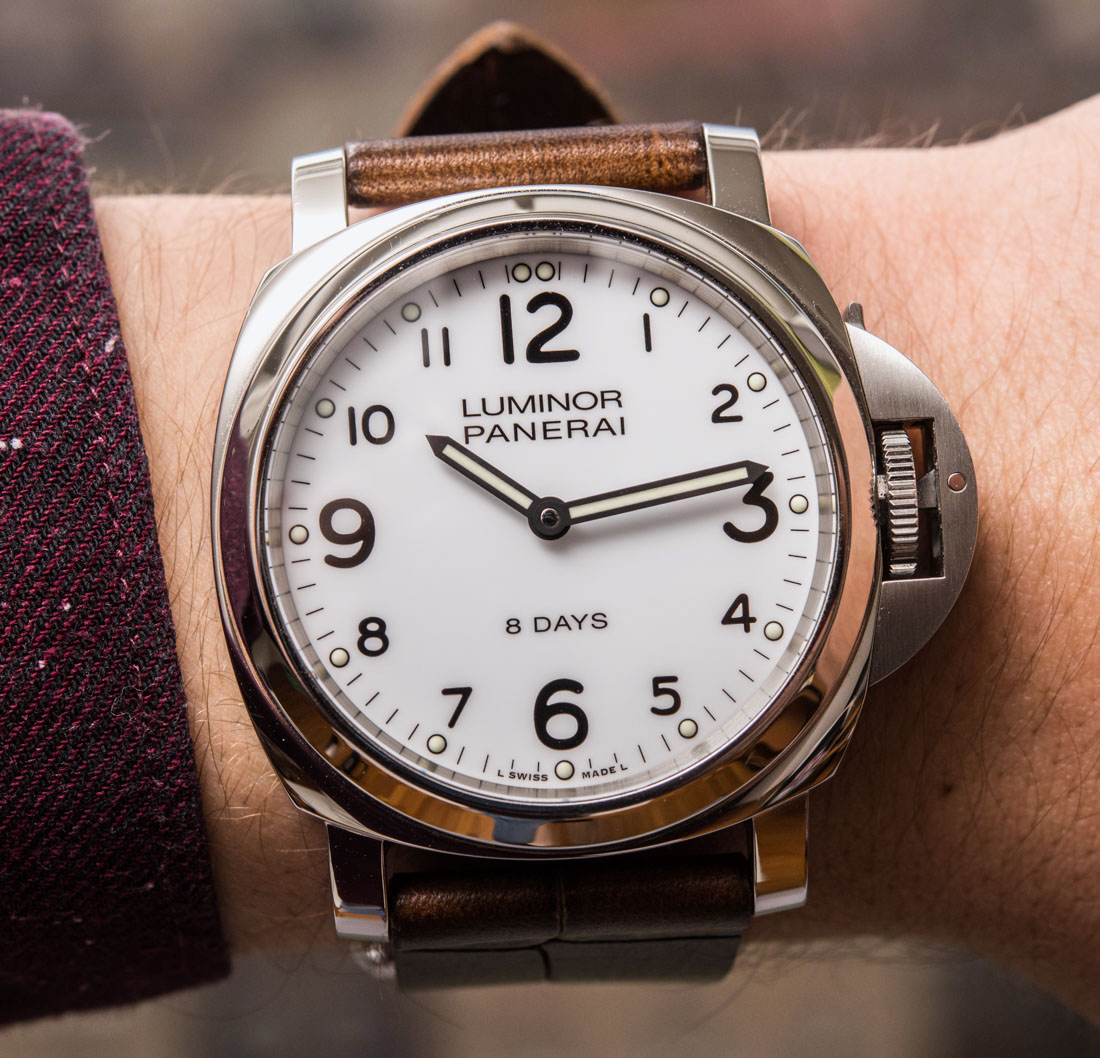 I picked the PAM561 specifically because I wanted to review a Panerai that isn't an obvious choice but something one might actually end up considering after looking at the current production line-up of the brand. Clad in a 44mm-wide Luminor case, it is a simple, legible, and among the white dials Panerai Luminor Base 8 Days Acciaio PAM561 copy watches, competitively priced offering that also packs a more unusual hand-wound, in-house-made movement with an 8-day power reserve.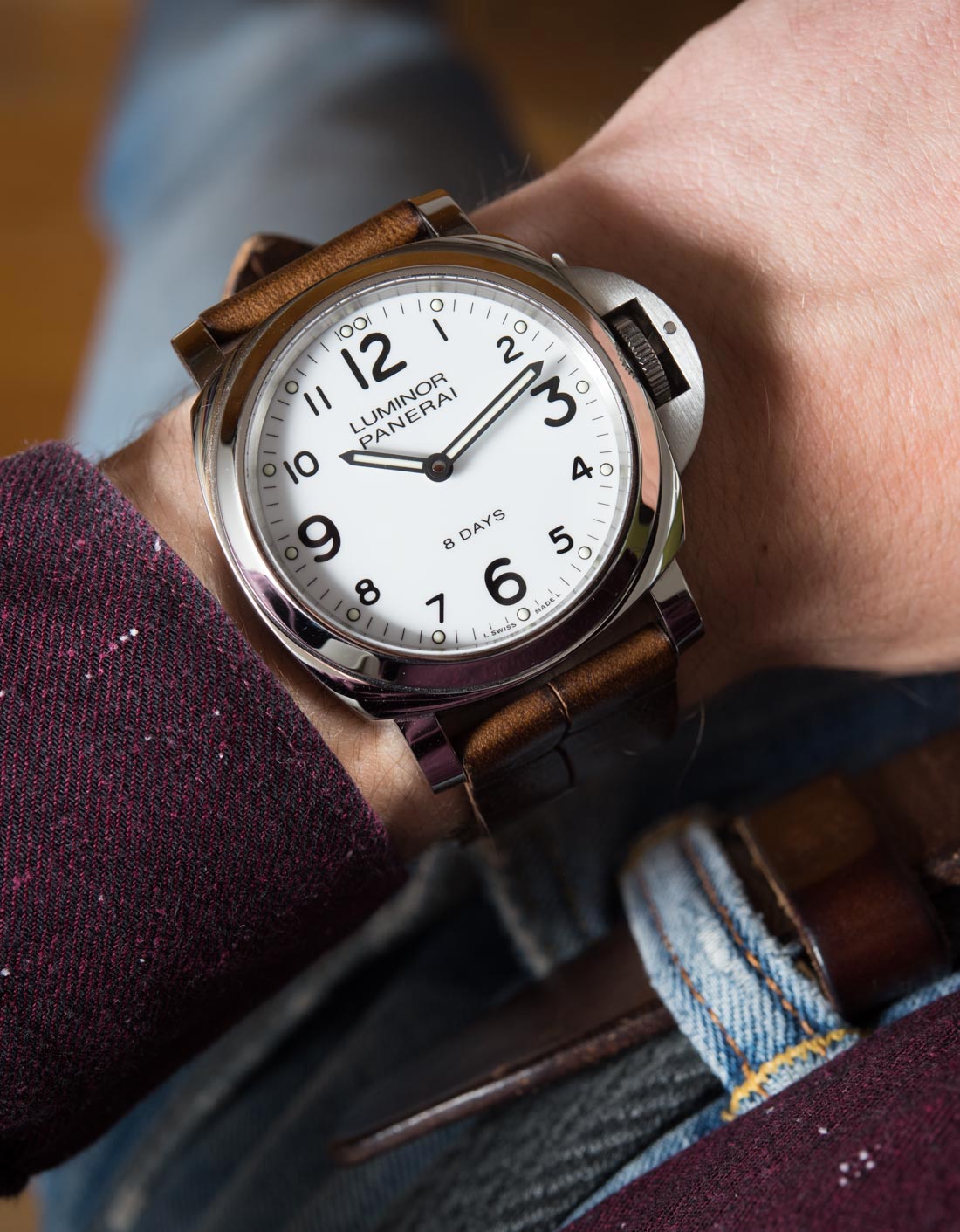 Aesthetics & Wearability
Being the simple watch that it is, there isn't much pizzazz to get distracted by. But that just means that the fewer number of consequently more prominent elements have to work together all the better – and, with one notable gripe notwithstanding, they do.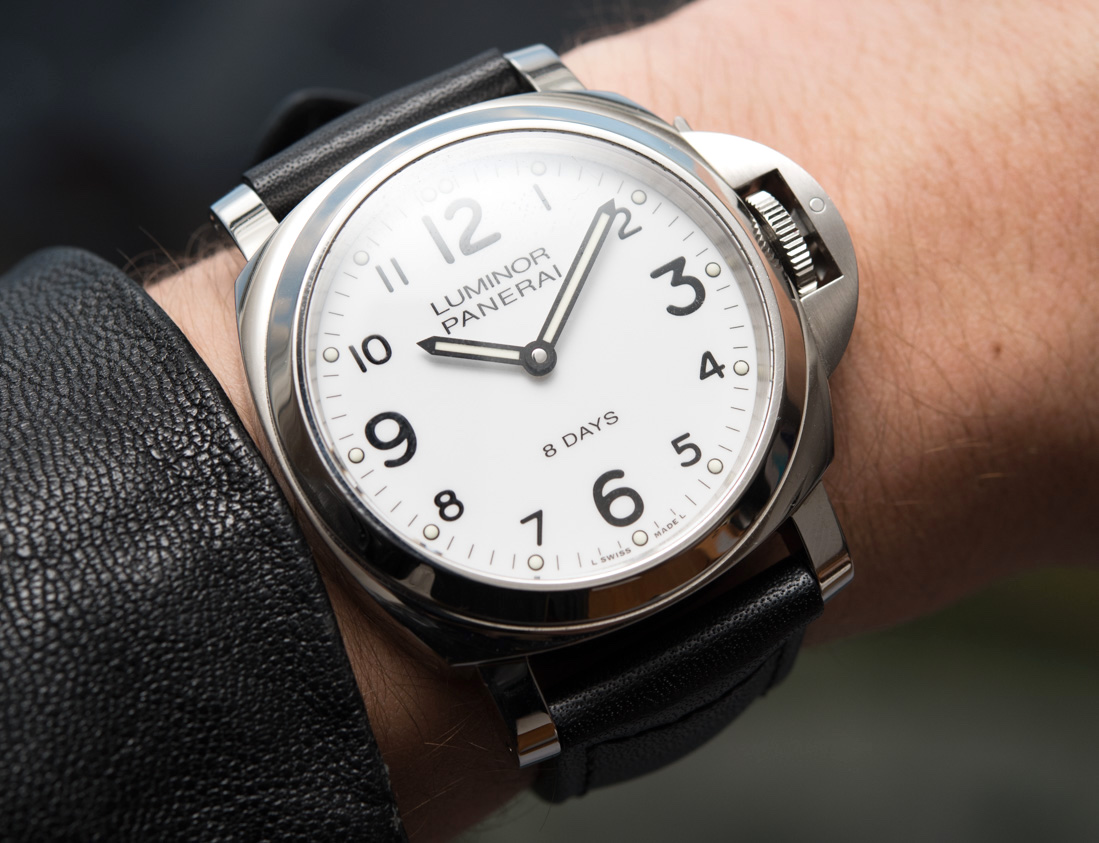 To this day, I remain positively baffled by how ingenious this Luminor case design is, especially in 44mm where proportions with the dial elements I find more spot on than the 47mm. The larger case is proportionate but often too large to work well with the dial, in my opinion.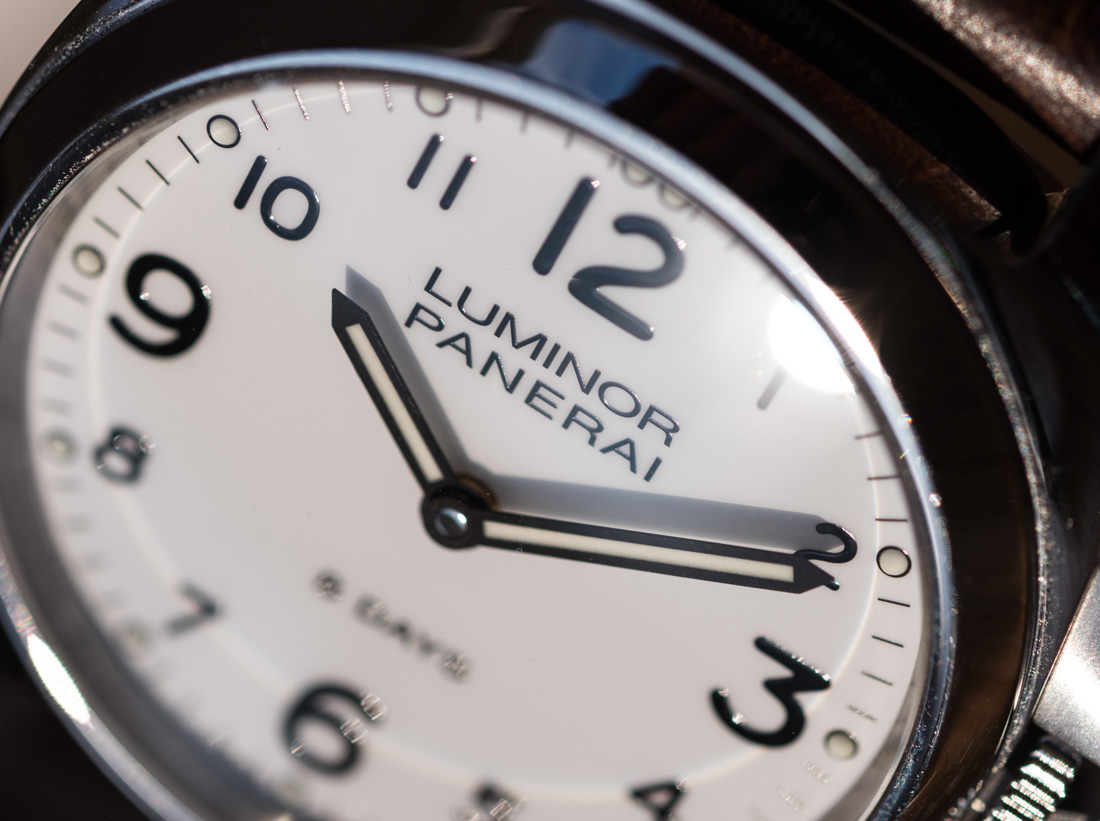 The perfectly round bezel looks both elegant and masculine, while the cushion-shaped case with its tall profile (unlike the sloped 1950 variant) and straight lugs operates in brilliant harmony with it. The PAM561 has a fully polished case which is not as impressive as exteriors with alternating finishings can be: it really is a polished mass of steel without any sharp angles, complex corners and edges, or particularly fascinating details anywhere. It is your bog-standard Luminor case that is attractive as a whole and at a glance, but not for its selfishly complicated intricacies.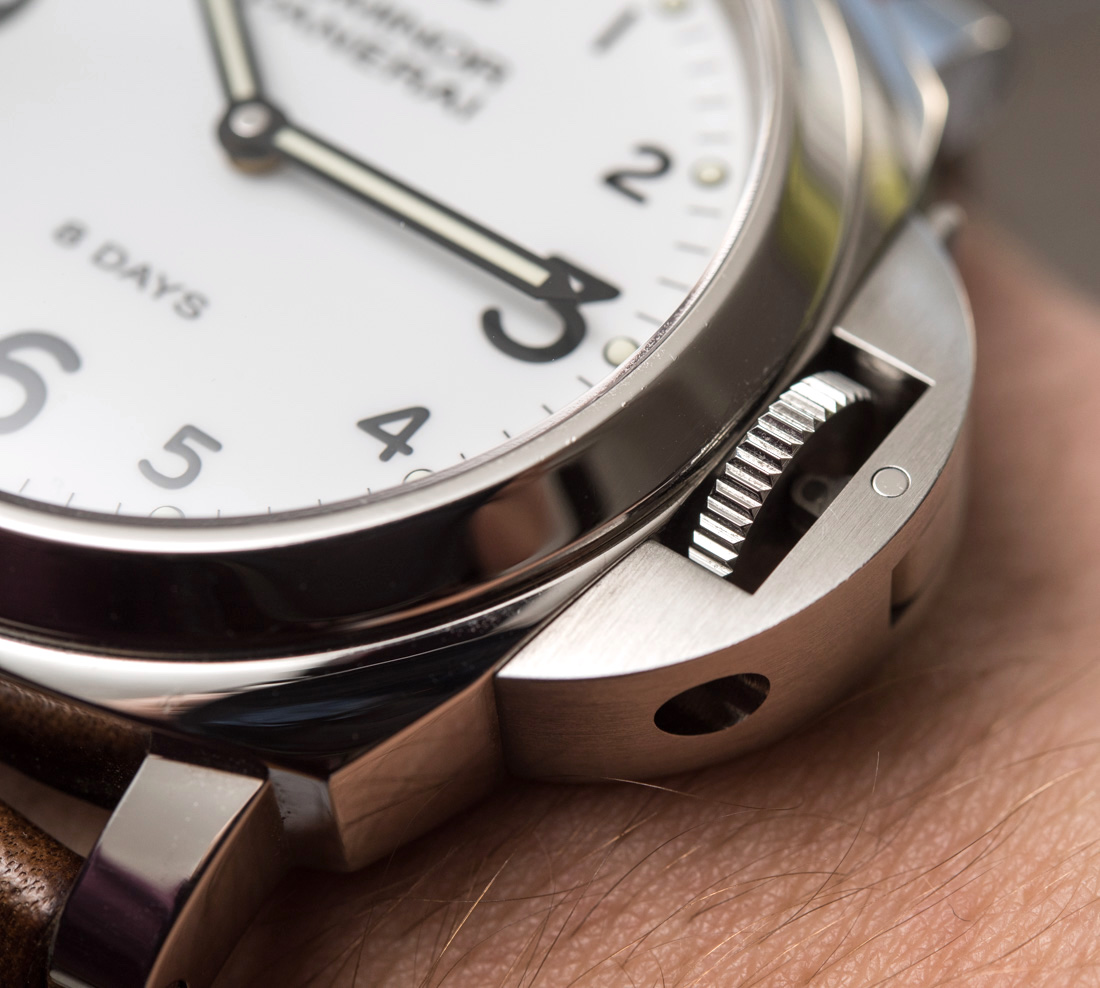 Of the two minor details I would still point out that go beyond mere proportions, first is how the four corners of the middle case are curved downwards, which takes the edges of the corners away and makes them better complement the round dial and bezel. The second is the profile of the crown guard – not something many would look at. Its bottom side is completely flat to keep it as high above the wrist as possible (though at times, it does dig into the skin), while its top part is angled upwards, towards the wearer. This, you don't necessarily realize even when looking at the watch at a slight angle, but it does add more sophistication to this over-60-year-old military design.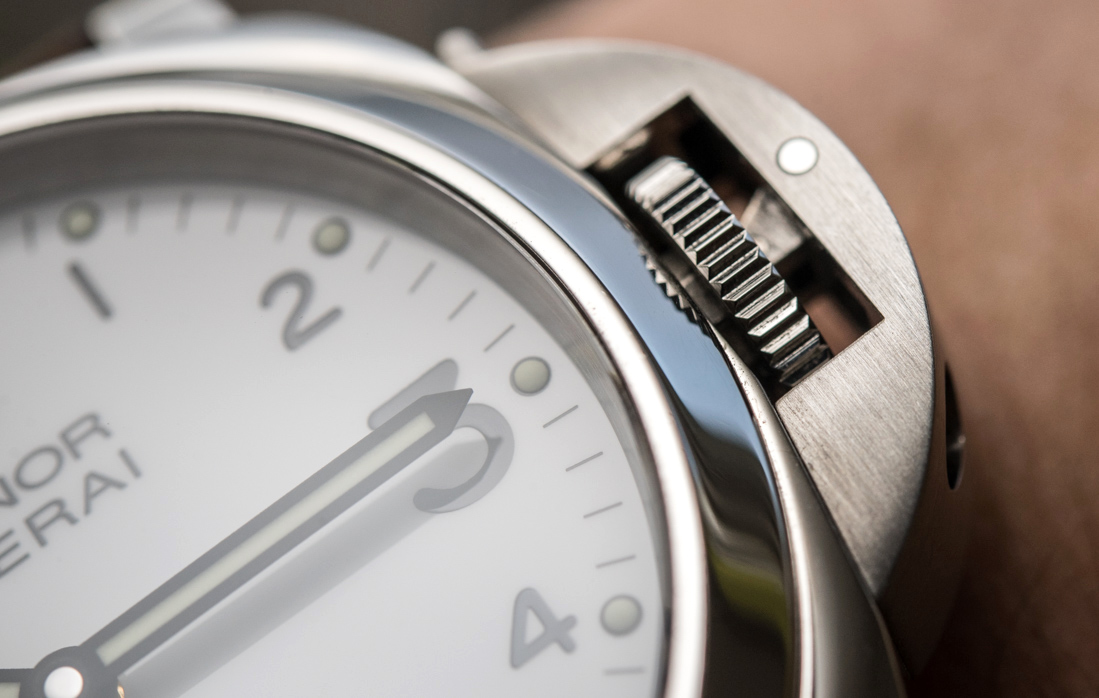 Speaking of this component, oddly enough, Panerai decided to add a fully satin-finished crown guard on the completely polished case. This isn't something that would stand out immediately at first look, but once spotted wasn't something that I could quite get used to over the few weeks with the Panerai Luminor Base 8 Days Acciaio PAM561. This aesthetic element is sort of like an exaggerated take on alternating finishing. I will say that, from afar, I found it possibly adds a more quality look than what the PAM561 would have had with a polished crown guard to go with the reflective case. It isn't a maker or breaker of the aesthetics but rather something that I think is a bit odd at first, but ultimately, justified.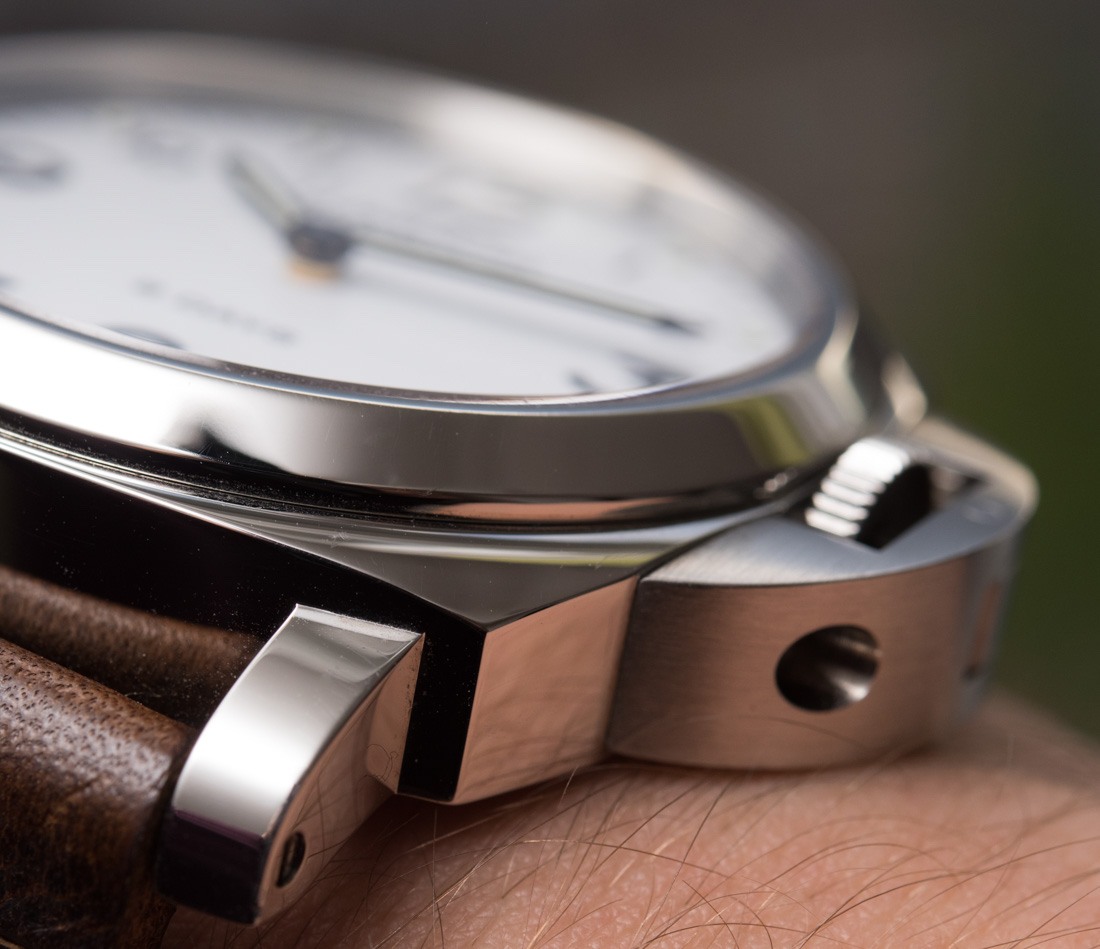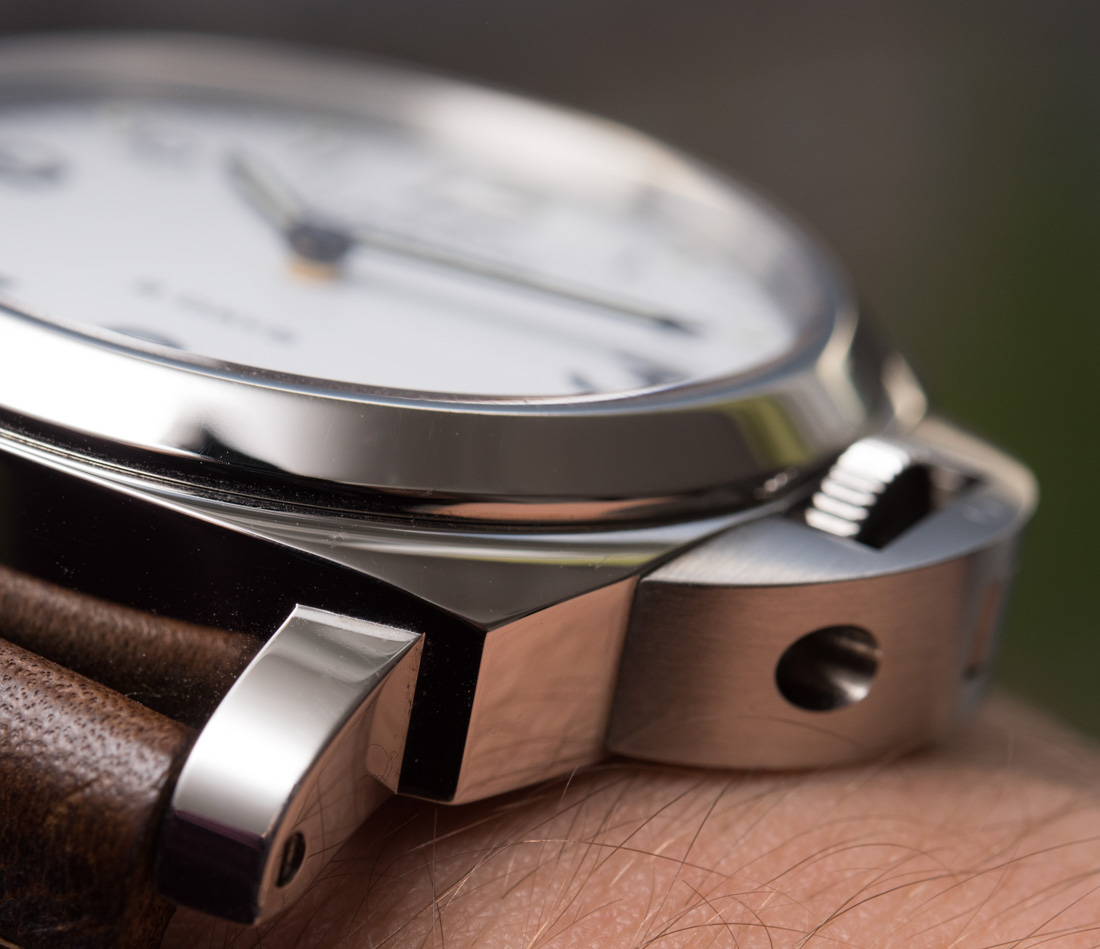 Typical Panerai treats include the reassuringly snappy crown guard lever – that I liked to fiddle with whenever I had a brief moment to spare in a queue or on public transport. It is something I find myself reaching for and disappointedly not finding after strapping on other watches. Also appreciated was the 24mm lug width that opens up a virtually infinite supply of strap options.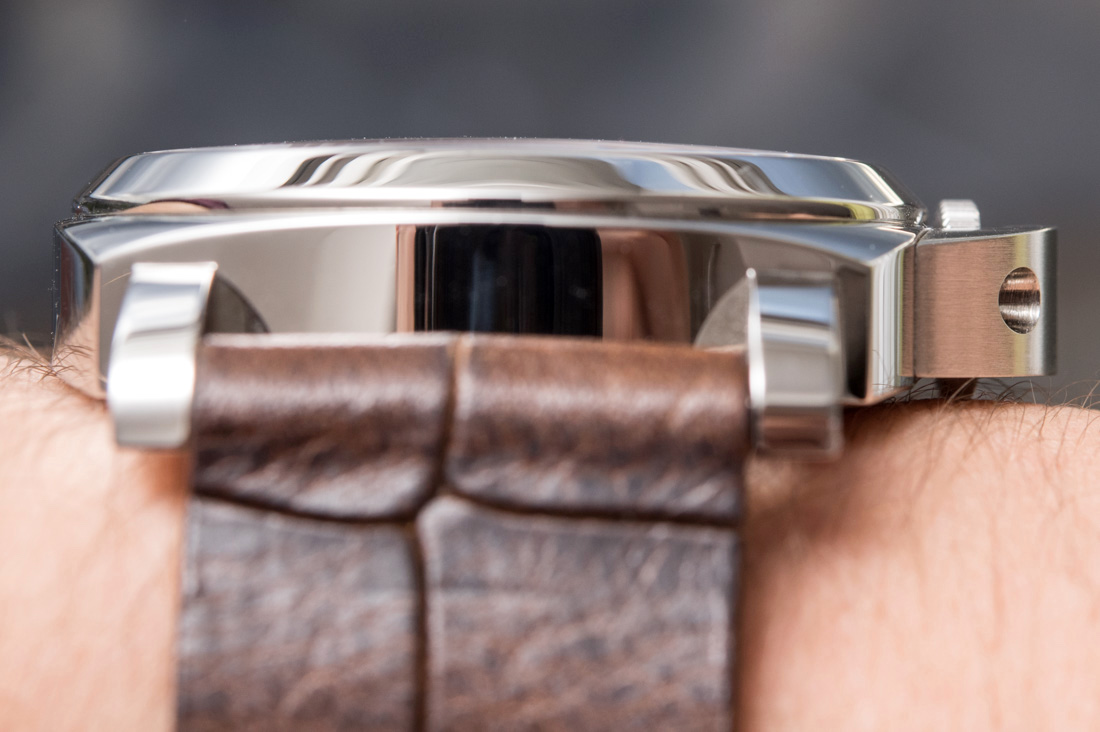 Panerai will sell you calf and buffalo leather straps from CHF 220 going up to CHF 360 for alligator ones. But frankly, at this point, there is such a vast selection of aftermarket straps that you'd be highly encouraged to shop around there (and support those guys, as well).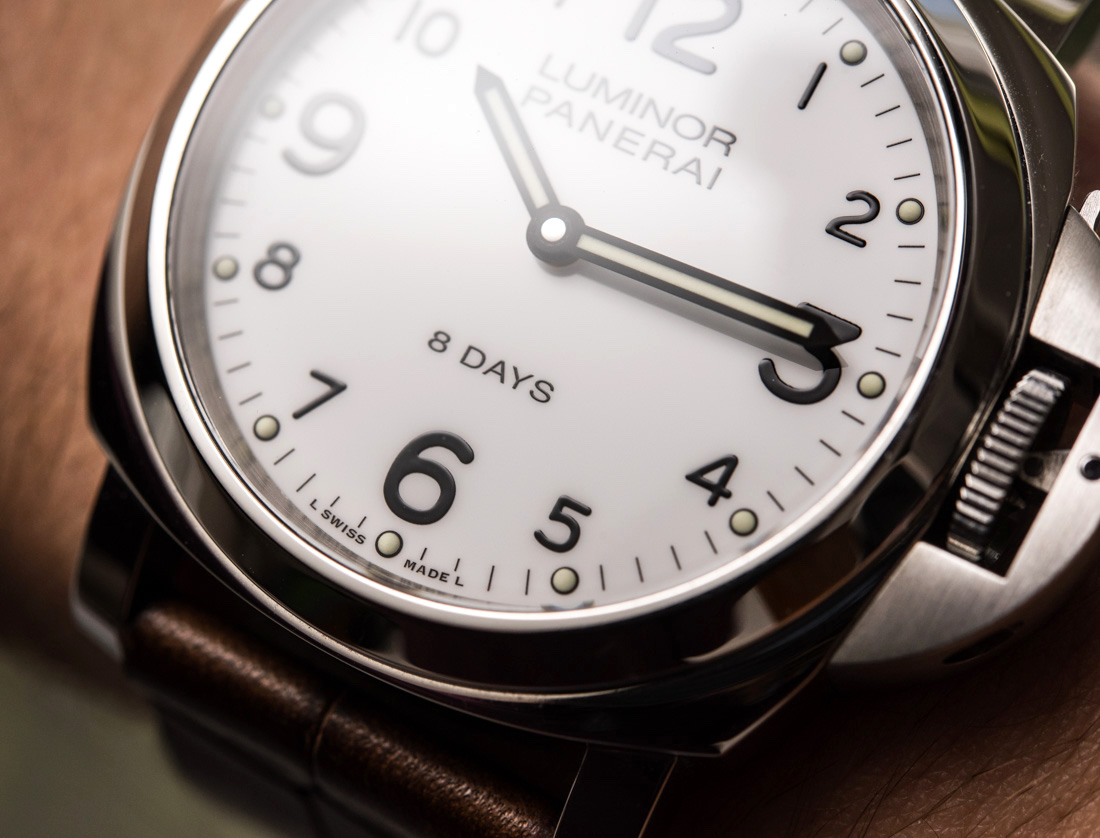 The black "Calf Monte Carlo" leather strap that the brown leather straps Panerai Luminor Base 8 Days Acciaio PAM561 fake watch  is supplied with is of decent quality, but nothing notable that would really add or take away from its overall appearance and impression. If anything, this black-on-black option I think is a bit safe and boring, especially as this white dial version is all about more vivid colors and pushing regular, safe aesthetics to the side a bit. Apart from looks, wearability is as great as it always is with a Panerai, as the watch is held firm and secure thanks to the ample width, thickness, and rigidity of the strap and its massive, Panerai-marked pin buckle.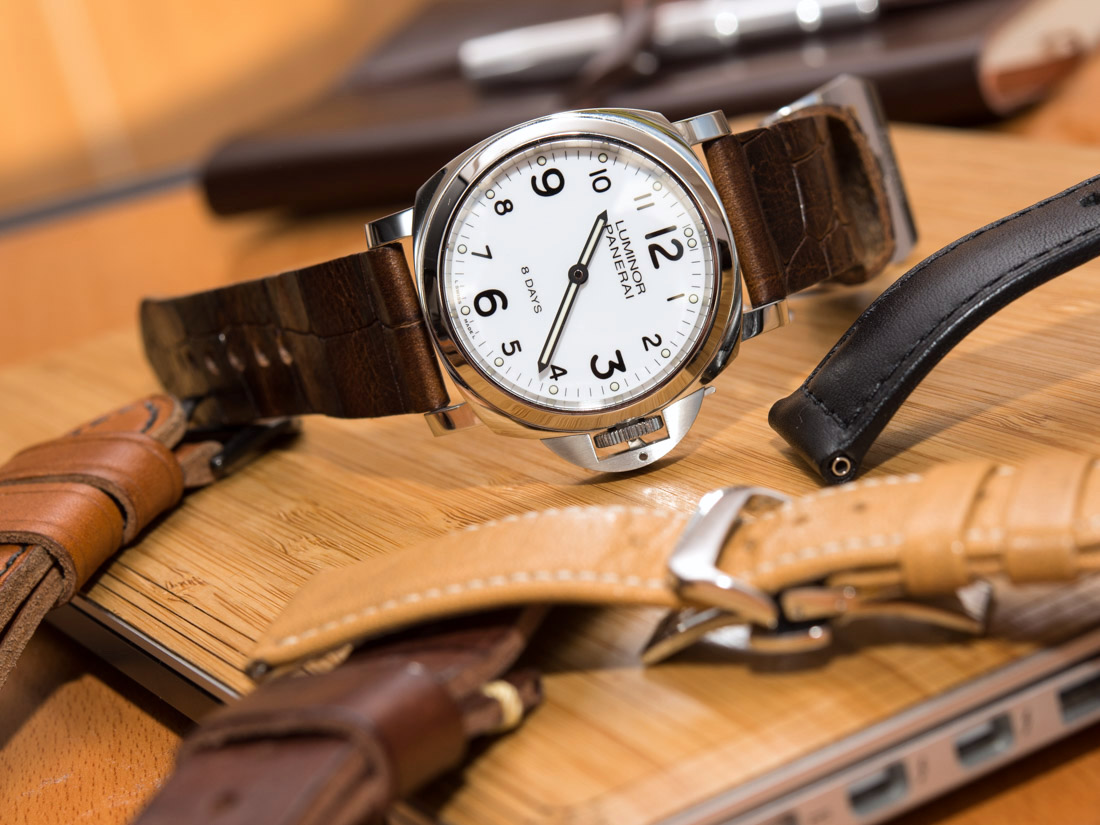 Dial & Legibility (& My Only Gripe)
The dial is more unusual not just in its color but also in its markings, with Arabic numerals all around (unlike your more typical Panerai dials that only have numerals for 12, 3, 6, and 9 with baton markers everywhere else) plus an additional and, again, rarer 60-minute track on the periphery. The numerals are not lumed, only the hands and the pips on the periphery of the dial are. All of these are painted on the dial's surface as the Panerai Luminor Base 8 Days Acciaio PAM561 has a solid dial rather than the famed Panerai sandwich dial.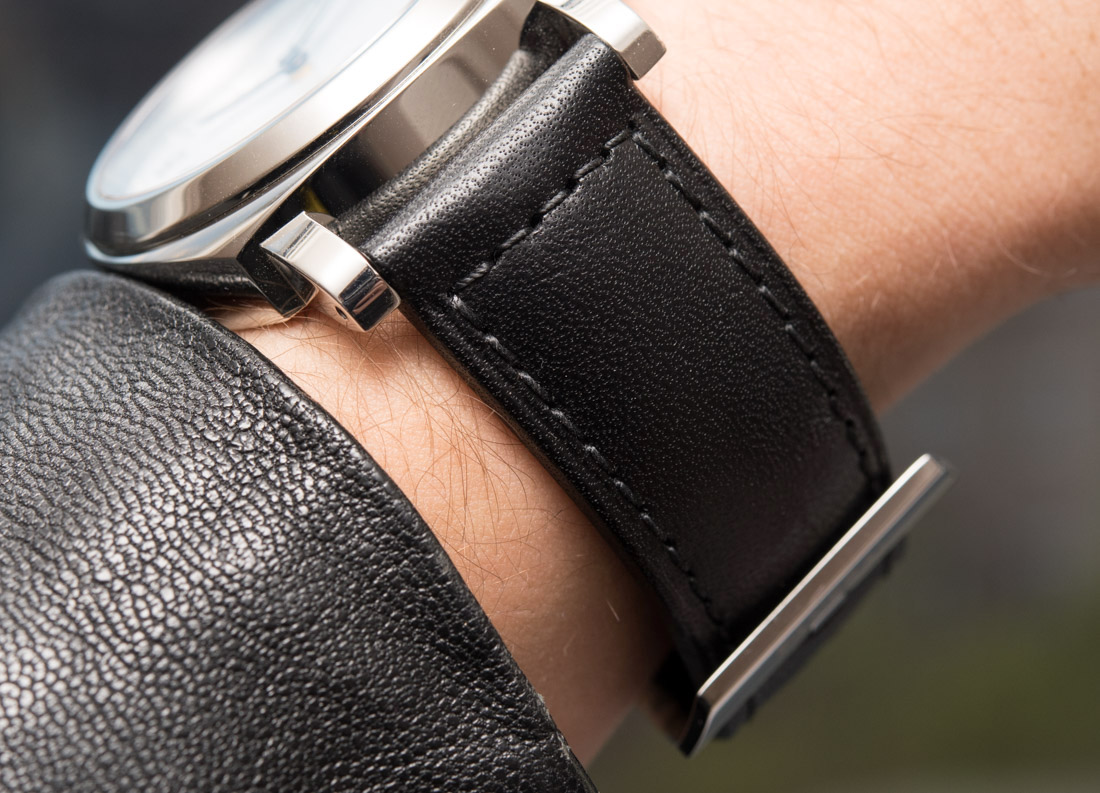 Sandwich dials are fun and all, but your first Panerai more than likely had that already, and the PAM561 is more like your second or third in the line, as I mentioned above, where you do want something new in the subtleties that render one Panerai different from another. The prominent "8 DAYS" marking above six o'clock refers to the P.5000 in-house caliber – but before we move on to that, just one more word (and my only gripe with the PAM561) on legibility.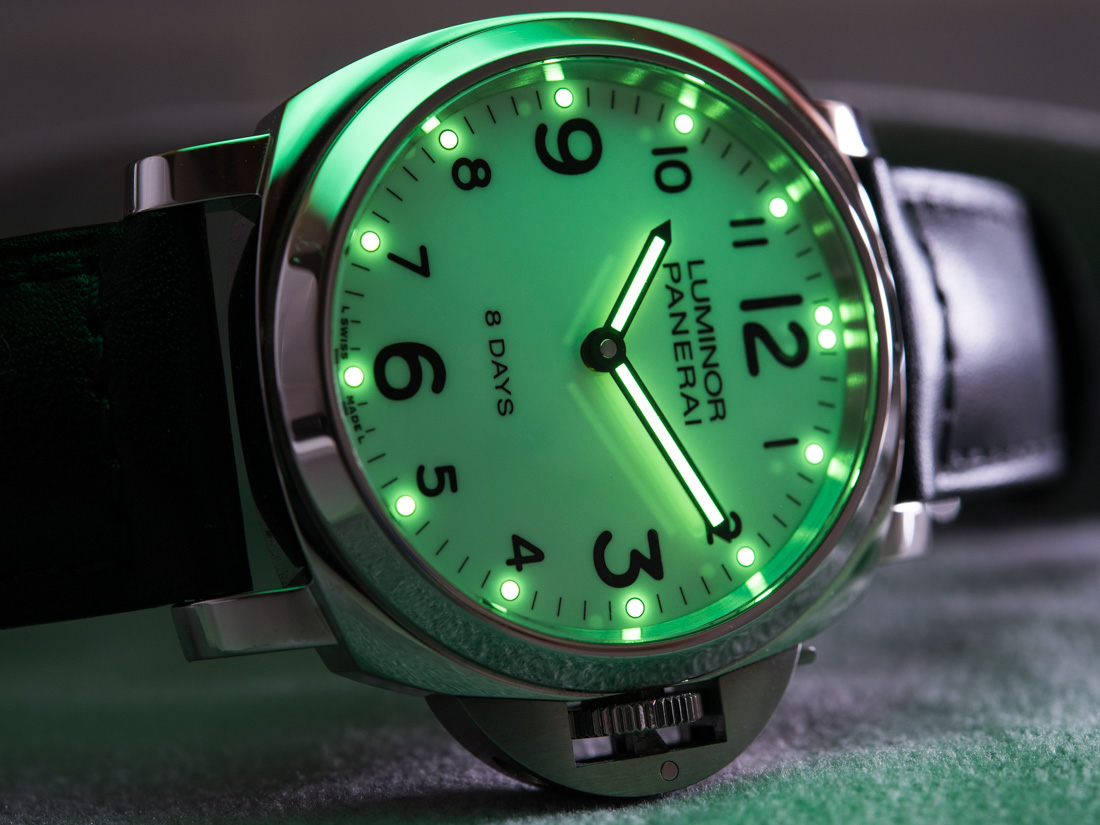 The black numerals and the black painted hands with their off-white (but not faux vintage!) center contrast beautifully against the sharp white dial – the lume pips and the center of the hands turn noticeably green even when it's bright outside, the famously excellent Panerai lume is so strong. Stay inside for longer, though, and as the lume discharges (and doesn't receive much charge from ambient lights), these elements go back to being white.
Everlastingly good color contrast aside, however, the only two hands on the PAM561 are just way too short. I noticed this in official images but even during the excitement of unpacking a freshly received review unit, they soon stood out for me as too short – and, frankly, I don't see why this was necessary. The minute hand falls way short of the track it's by definition supposed to reach, and the hour hand sometimes just looks "lost" in the sea of white, coming in way too short to be even remotely close to the outer edge of the dial (it barely reaches halfway across).
These delicate copy wacthes perhaps longer and heavier hands would have put additional strain on the movement, but if anything, an 8-day power reserve movement should have enough torque to move these thin and light hands around. I personally will go so far as to say I would have traded a day or two of power reserve for longer hands.