Like many other seasoned watch lovers, my affection for German watch maker Glashütte Original runs deep. It's not just the classic yet spirited designs that tend to define the brand which are appealing, but it is also the enduring dedication to functionality and mechanical excellence that the region is known for. Yes, like many people who know watches well, I'm a big fan of what Glashütte in Saxony lends to the world of contemporary watches. So let's look at one of the brand's more avant-garde watches, yet one that is totally wearable on a daily basis, the steel cases Glashütte Original Seventies Chronograph Panorama Date fake watches  reference 1-37-02-03-02-70 with the blue dial on matching steel bracelet.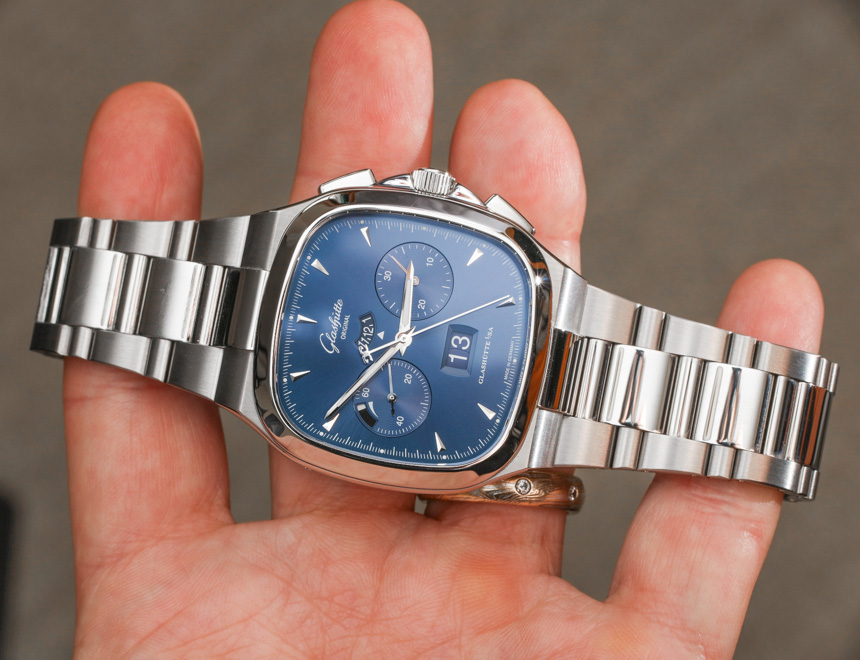 I recall first putting a Glashütte Original Seventies watch on my wrist back when the brand released the collection in 2011. I had seen the watch in pictures prior to trying it out and was pleasantly surprised how much more I liked it when wearing it than the images would have suggested. Like many timepieces, this is one of those pieces that just happens to come alive when on the wrist as opposed to being viewed in the vacuum of marketing images. I think that is because the cushioned square case with its finely made tapering bracelet is particularly flattering to the organic curves of one's hand and arm – which allows the design to sell itself through aesthetics and wearability. If you're curious about another take, we previously reviewed the non-chronograph version of the Seventies Panorama Date watch here. In 2014, Glashütte Original followed up by expanding the Seventies collection with the Seventies Chronograph Panorama Date that I review here today.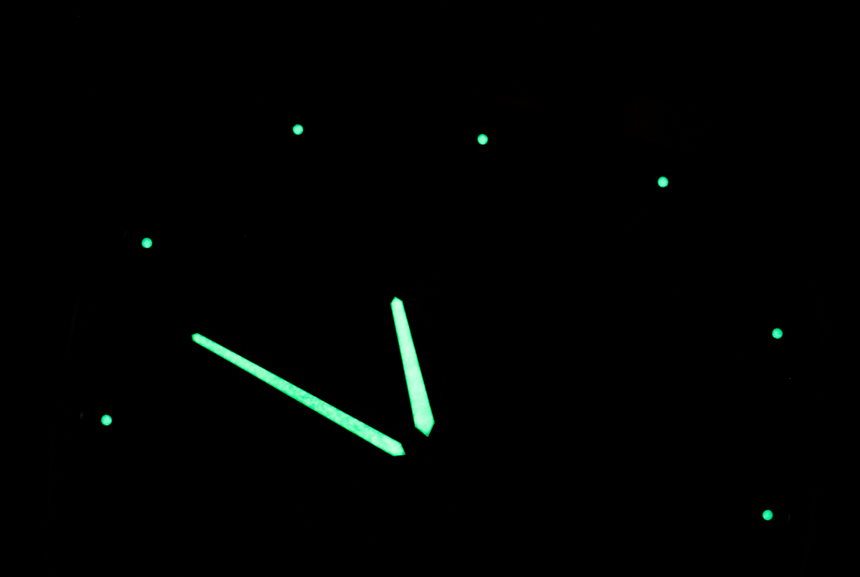 Speaking of square-cased watches, the Seventies case is 40mm wide by 40mm wide, and in the Glashütte Original Seventies Chronograph Panorama Date version it is 13.5mm thick (water-resistant to 100m). That makes it a true square, and the case itself feels a lot more like a retro television screen, which is intentional. Square or non-round watches are difficult to get right. Getting the proportions and overall design of a non-round watch correct such that it is both legible and looks good on the wrist is quite hard to do. Though when it is done correctly it has the makings of a classic.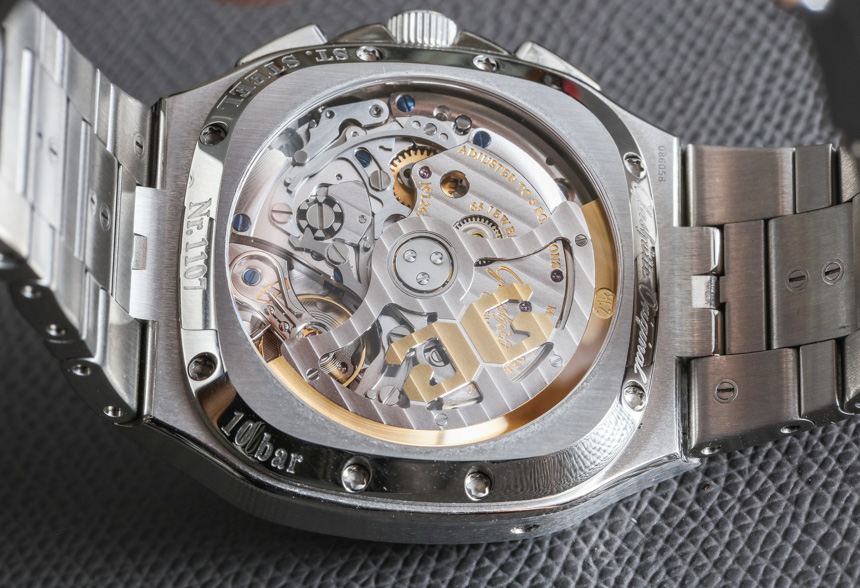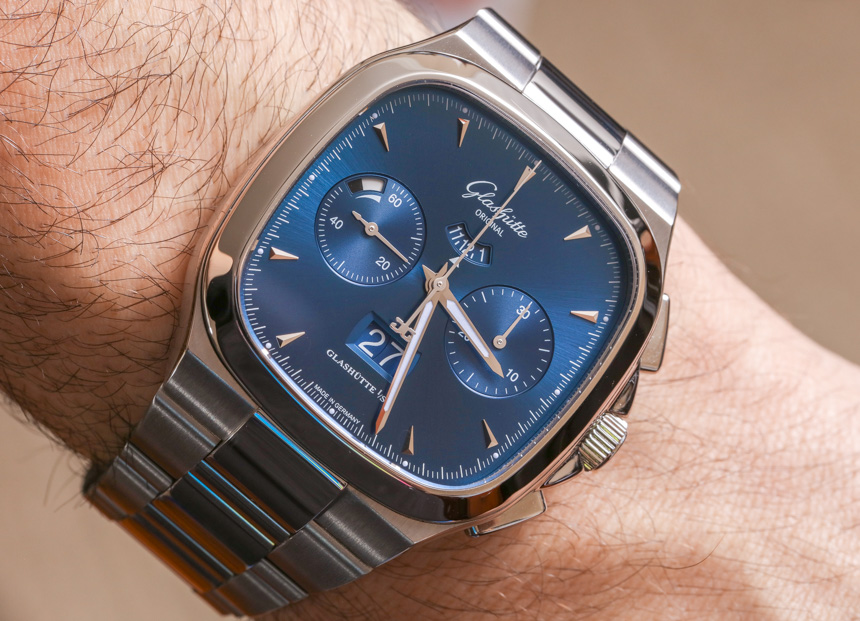 As a mental exercise, think of all the watches you can that are not round but are also timeless. There are a few of them, and they stand out amazingly well. Then, think of all the watches which have non-round cases which just didn't work despite best efforts. If you know your watches, you'll realize that the unsuccessful ones clearly outnumber the successful ones. So when it comes to non-round watches, there is great risk, but also great reward if the brand gets its right. In my opinion, the Glashütte Original Seventies, while not totally mainstream in its appeal, has the makings of a classic.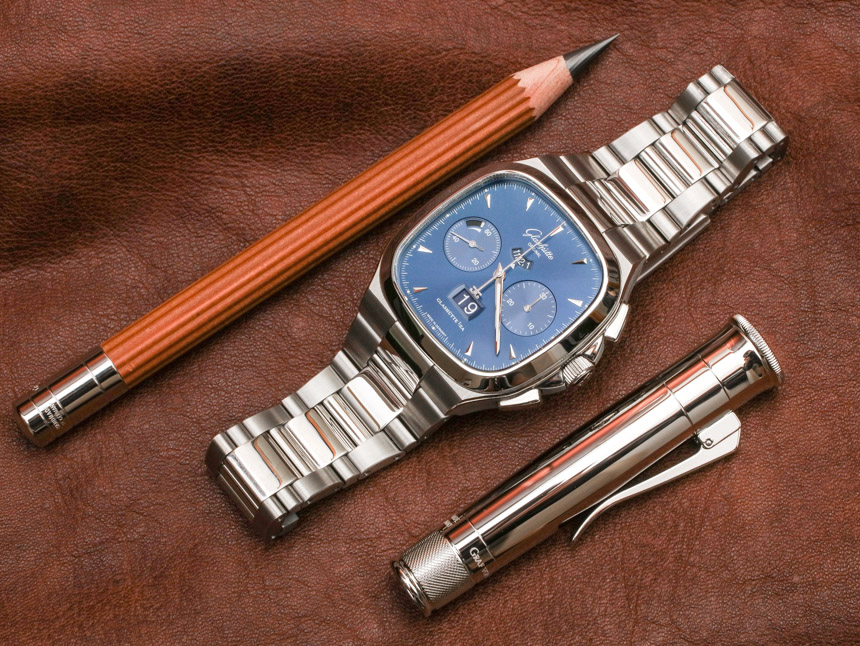 In a sense, it is already a contemporary classic. Even though the modern version came out just a few years ago, Glashütte Original didn't just name it "Seventies" because it loosely reminded them of the era. Rather, this collection, which includes models on various straps and three different dial colors, is directly based on watches that the brand released in the 1970s. From the 1960s to the 1970s, Glashütte Original came out with a large selection of really interesting and very "out-there" stuff. That meant a lot of experimentation with colors and case shapes. Recall that this was during a time when the brand was actually state-controlled, as Saxony was in what was then East Germany, run as a communist state. Nevertheless, the state was quite liberal with its designs, and it was a golden age of design that the Glashütte Original brand of today regularly draws inspiration from. Another square-cased model the brand produces which is inspired by the 1960s is the Glashütte Original Sixties Square (hands-on here).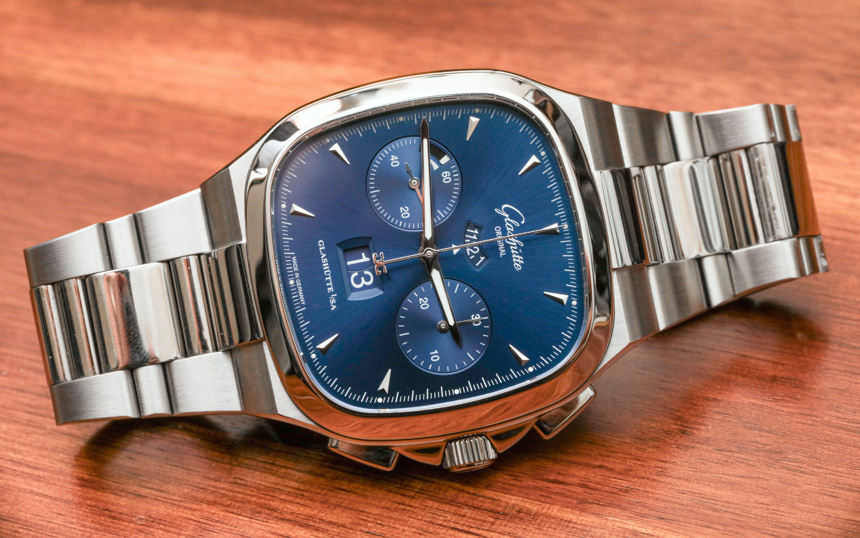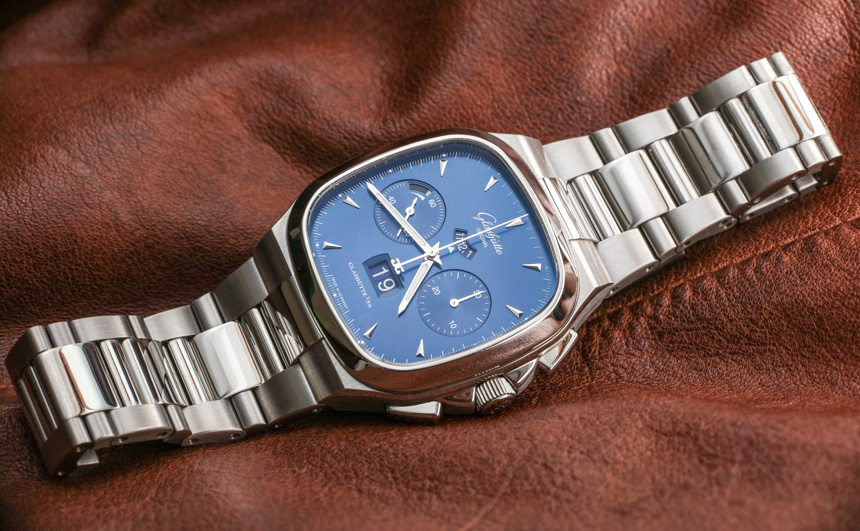 The blue dial Glashütte Original Seventies Chronograph Panorama Date copy watches are no cheap wacthes, but people get it for the case design, detailing, and of course, the in-house-made movement. As I said before, it does take a relatively seasoned watch lover to really appreciate all the details and unique style here. It's all about the case, movement, dial, and bracelet – all of which are produced in Germany.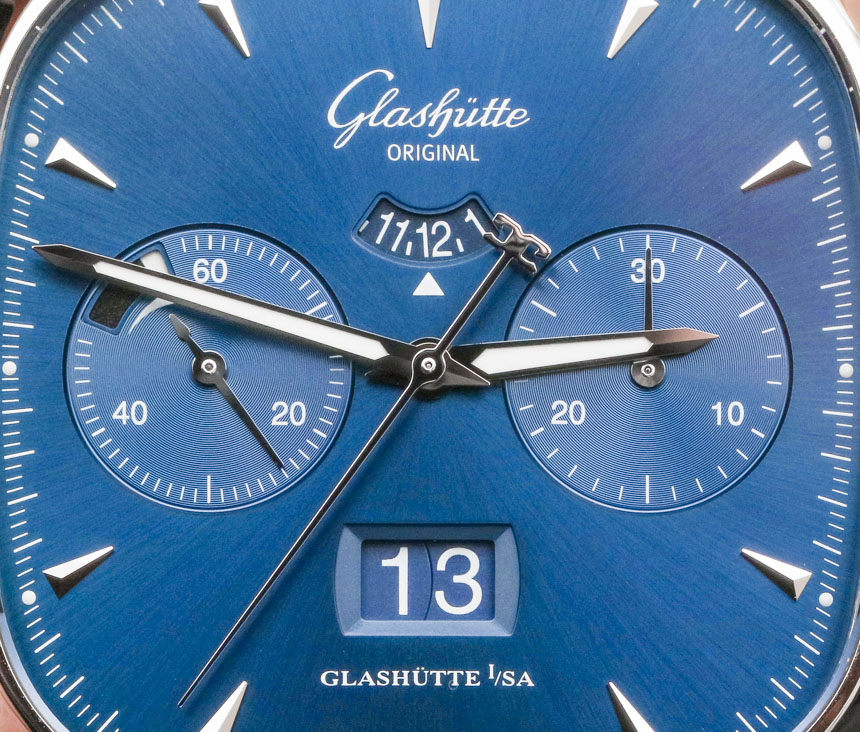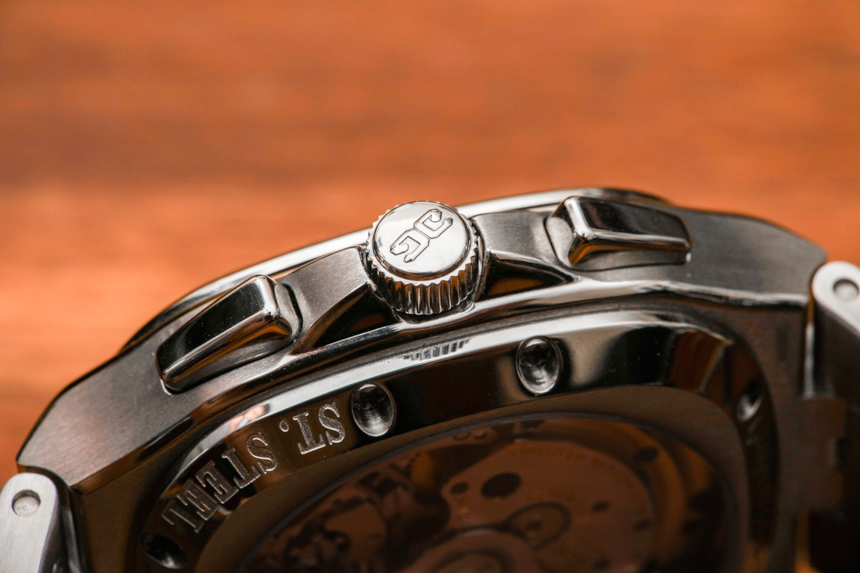 As all watches are sold or passed over because of their dial, let's discuss the one on this Seventies Chronograph for a moment. This version is in a sunburst metallic blue, which is produced by Glashütte Original by their own dial-maker which is located elsewhere in the country, in Pforzheim, Germany. The blue is not just chemically applied, but done using a carefully designed technique using layers of varnish. Blue is a popular choice for watch dials today, and that's a good thing since it offers a more inviting color than gray, and is a bit more friendly than, say, black, white, or silver. With that said, the challenge in making a good blue dial is in getting both the exact right shade and finishing. Too light or dark and it can easily ruin the appeal; too matte and it can look cheap; too glossy and it can affect legibility. So when you see a blue-colored dial that is done right, it's easy to appreciate it.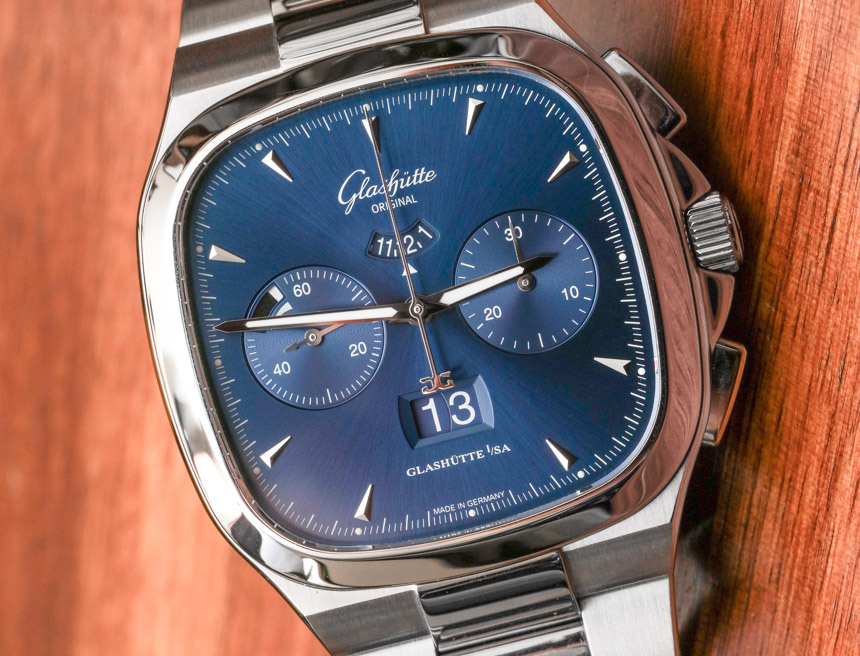 A lot of the Glashütte Original Seventies Chronograph Panorama Date dial is about referencing the past. You see that in the applied arrowhead-style hour markers, with small lume points applied manually around the periphery of the dial. The hands are perfectly sized in length, and painted with Super-LumiNova in the middle. They offer excellent contrast against the blue dial – which makes for a very welcome sense of readability in most lighting conditions. Both the hands and hour markers are produced from 18ct white gold – which allows for a nice polish and protects against tarnishing in the future.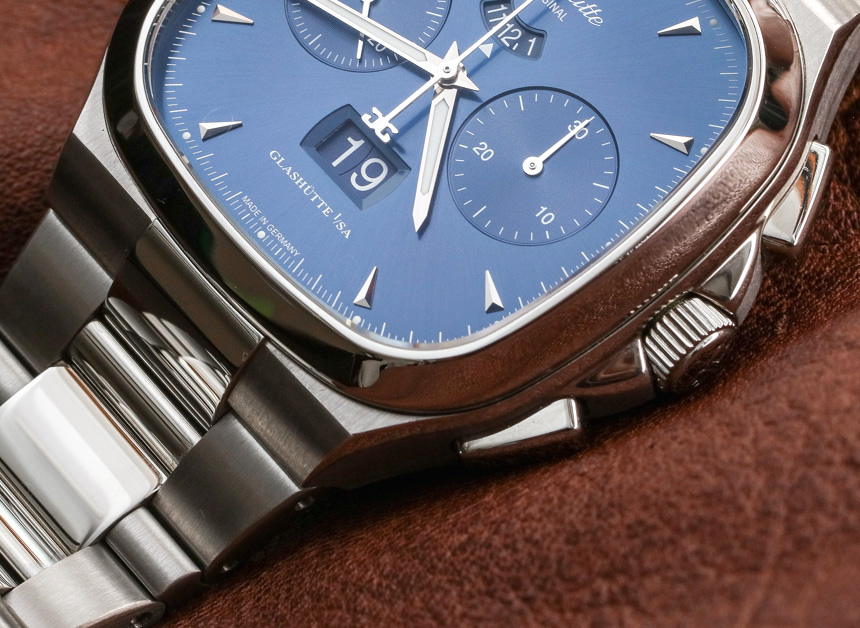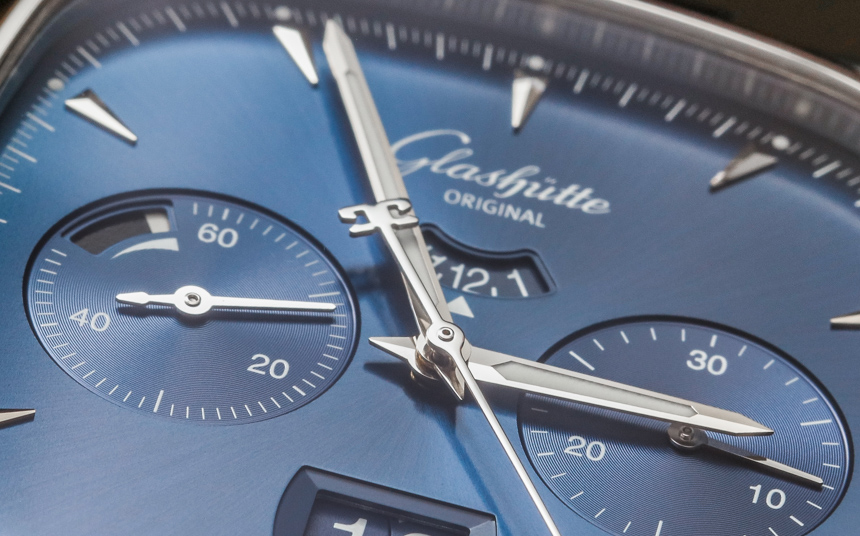 Even though the Glashütte Original Seventies charming replica watches  is more a sporty/casual watch, the hands and hour markers are a bit more formal in their design, albeit still easy to read. This was odd to me at first, but I came to appreciate it. The effect is a soothing, more traditional look that still has a bit of "polished pizazz" to it, which melds nicely with the otherwise sporty case. It makes for a sexy composition, which is a rare thing to say for a timepiece with a cushion-style square case. If there is one big compliment that I'd like to give the Glashütte Original Seventies case is that it manages to look sexy while also not looking typical.